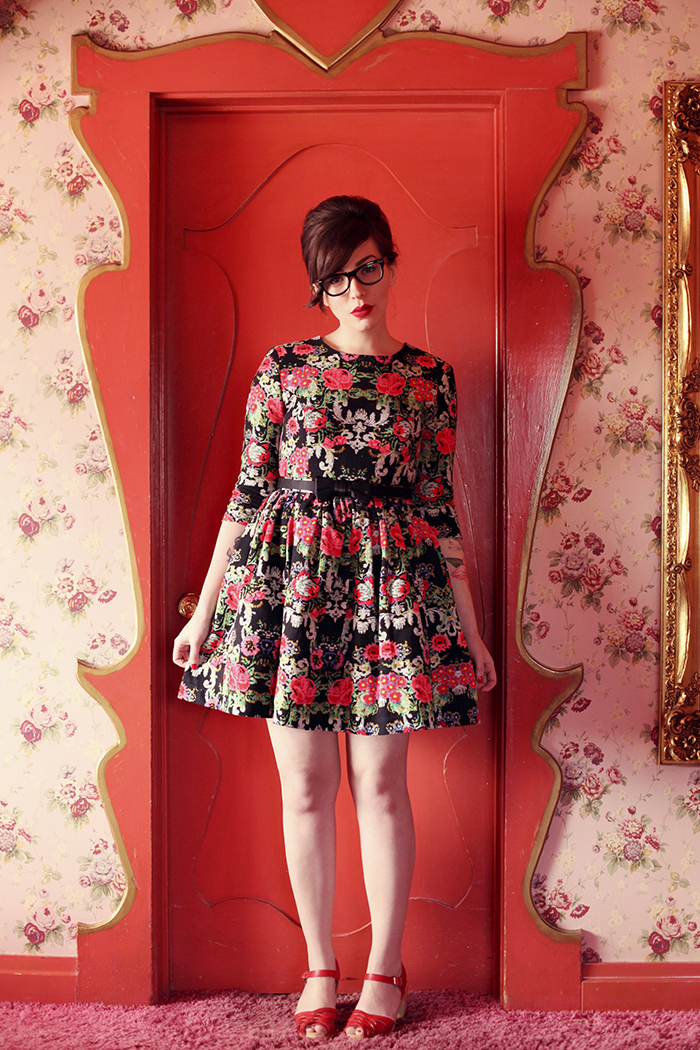 Outfit Details:
ASOS tapestry print dress
thrifted belt
Swedish Hasbeens red, braided sky high heels
Lookmatic "Payton" frames (all frames are $62 including shipping, until February 16th!)

I wear these Lookmatic "Payton" frames so much, I just ordered a second pair in tortoise. I was already thinking about it, and then they started their Valentine's Day sale. Can't beat $62 for a new pair of prescription frames! It's funny how I have so many pairs of glasses, and yet I seem to wear the same handful of frames, over and over. I'm the same way with shoes and handbags! You'd think I only own a few pairs of shoes, the way I rotate them within a select group. And yet, I always like to have options, because there are days when I want to mix it up.

Lookmatic is also offering a special Valentine's Day giveaway to my readers! The prize will be one Lookmatic style of your choice, and an iPad Air! For a chance to win, just visit Lookmatic's website and pick your favorite pair, then reply to in the entry form with the name of the style you'd like to win. Enter by Sunday at 11:59pm EST, and the winner will be chosen randomly and announced here (on the widget). Good luck!

a Rafflecopter giveaway

The winner is Courtney P.